TENNIS
Millwood features four lighted outdoor courts. Amanda and Jarrod Smith are the Tennis Co-Directors.  They provide the Membership with a Full Tennis Program featuring Adult and Junior Lessons designed for beginners and through advanced players.  For more information contact Amanda Smith at (417) 861.6325 or info.vsetenis@gmail.com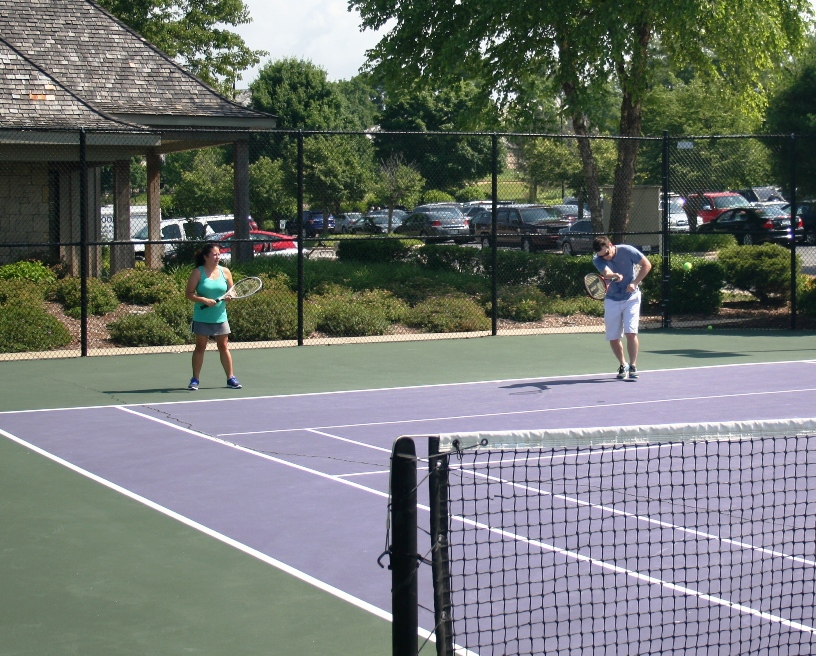 MILLWOOD ADULT TENNIS 2016     APRIL 1ST – OCTOBER 31ST
Cardio Tennis: Monday/Wednesday 11:00am-12:00pm & Tuesday /Thursday 7:00pm-8:00pm
Baby and Me Cardio- Intro to Tennis and Cardio Fitness
June and July 9:00am-10:00am Tuesdays or 9:00am-10:00am Fridays
Adult Doubles Camp: July 30th-31st 9:00am-12:00pm (Saturday) & 12:00pm–Finish (Sunday)
For more information or questions please contact Amanda Smith at info.vsetenis@gmail.com or 417-861-6325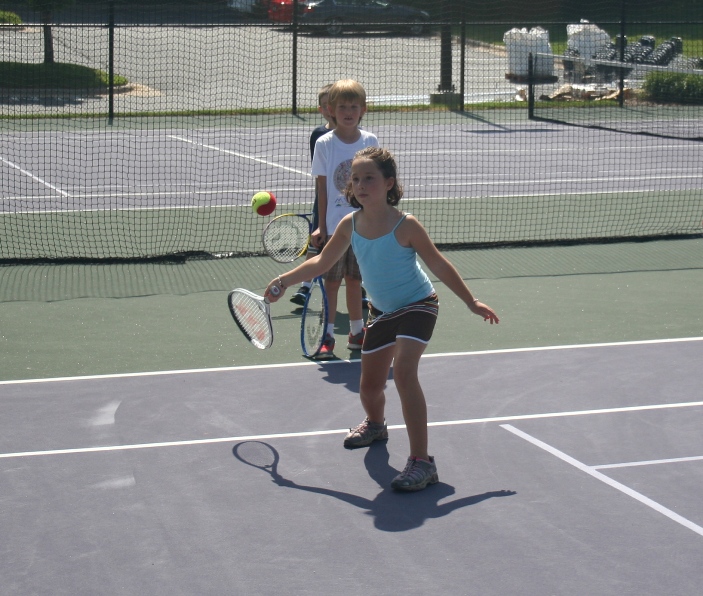 MILLWOOD JUNIOR TENNIS 2016  APRIL 1ST – OCTOBER 31ST
First Serve Teen Academy: Teenage Prep/Beginner/Intermediate
Tuesday/Thursday: 4:30pm-6:00pm $120/Month
Second Serve Junior Allstars: Ages 9-12 Intermediate
Monday/Wednesday: 6:00pm-7:30pm $120/Month
First Serve Junior: Ages 5-9
Tuesday/Thursday: 6:00pm-7:30pm $80/Month
Champions: Advanced Level
Monday/Wednesday: 4:30pm-6:00pm $120/Month
High School Girls Camp: June 13th-16th 1:00pm-3:30pm $125
Kids Day Camps:
June 6th-9th: 9:00am-10:00am Ages 5-10 $100
June 6th-9th: 10:00am-11:30am Ages 11-13 $125
Drury Camp: July 10th-15th Register at www.drury.edu
Reminder: Registration deadline for Junior Team Tennis is May 20th- No exceptions, please commit to the entire season!
For more information or questions please contact Amanda Smith at info.vsetenis@gmail.com or 417-861-6325
QUESTIONS?
AMANDA SMITH AT INFO.VSETENIS@GMAIL.COM 417-861-6325. ALL CLASSES, TOURNAMENTS AND EVENTS WEATHER PERMITTING; **SOME EVENTS/PROGRAMS MAY MOVE/SHARE OTHER LOCAL COURTS TO ACCOMMODATE. NO CLASS ON MAY 25TH, AUGUST 1ST, 15TH AND SEPTEMBER 7TH.
Tennis Club Pros
Amanda Smith Co- Director of Tennis
Amanda is starting her second year as the Co-Director of Tennis with her husband, Jarrod Smith. Previously the Head Tennis Professional at Cooper Tennis Complex for 6 years.  Amanda will be here full time on the courts from March to October. One of her biggest assets is being able to build a strong Tennis Program and we are excited to watch our Tennis program grow. Here is a list of her background & certifications:
Previously the Head Tennis Professional at Cooper Tennis Complex for 6 years
Certifications: PTR Professional Junior & Adult Development 2007-Present
USTA Player Development Workshop-High Performance 10 & Under 2012
10 and Under Tennis Specialist
USTA Missouri Valley 10 & Under Committee Chair 2012-2014
Community Tennis Development Workshop 2009
Coached 10 & Under Regional Training Center
Community Olympic Development Program Instructor
USTA Tennis Official 2010-Present
Intercollegiate Tennis Association Tennis Official DI & DII 2011-Present
USTA Tournament Director 2010-Present
2011 Missouri District Outstanding Contributor to USTA Youth Tennis Award
2012 Missouri District Outstanding Official Award
Played NAIA DII College Tennis
Jarrod Smith – Director of Tennis and Fitness
Back for his fifth summer at Millwood, Jarrod is the Head Women's Coach at Drury University and has become one of the most successful NCAA coaches in his five-year tenure. Smith has been the Great Lakes Valley Conference Coach of the Year three times and has coached four different Player of the Year recipients. He serves as the Intercollegiate Tennis Association Chair of the Midwest Region and sits on the NCAA National Committee. Before arriving at Drury, Smith spent the previous two seasons as the assistant for both the men's and women's programs at Northwest Missouri State University.